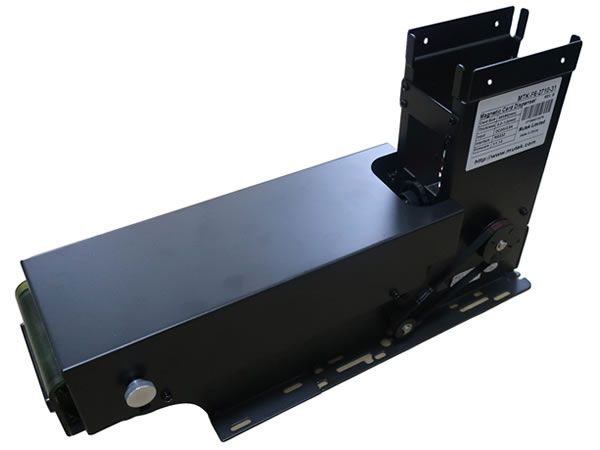 MTK-F61 is the featured magnetic card dispenser designed for magnetic card dispensing and decoding. It's also available for reading/writing of ISO 7816  contact IC and ISO 14443 RF cards with optional modules.
Features:
Combination of Card dispensing and collecting functions with compact profile;

Optimized channel design for transporting of embossed and distorted cards;
Simple Collection Bin Design and extensible Card Stack allows maximum flexibility;
Easy Bezel Replacement, anti-vandalism, anti dust and intrusion proof;
Built-in SAM Slot, optional SAM board for up to 6 slots;
Mutli Machine Communication with single COM port;
Specifications:
Supported Card Types:

Magnetic: ISO 7811-1/2/3/4/5/6; FM decoding (F2F)
IC: ISO 7816/1-3 (T=0 and/or T=1);
RFID: ISO14443(Type A&B);

Card Dimensions: 54x86mm, 0.2~1.2mm adjustable thickness;
Communication: RS232;
Power Supply: DC24V3A
Capability:

Dispensing: 155 pieces(0.8mm), extensible with card stacks;
Collecting:  25 pieces(0.8mm), extensible with collector bin removed;

Lifespan: Magnetic Head>500,000 times; IC contact>500,000 times;
Temperature: -20~+60℃(Working); -30~+70℃(Storage);
Dimension(LxWxH): 370x146x180mm;
Weight: 2.4Kg;
MTK-F61 is the featured magnetic card dispensers solution in various applications. It removes the complicated and costly magnetic writing module for cost control and compactness. If you need dispensers with magnetic encoding function,  You can refer to MTK-X91 all-function card dispenser.
Notes: All current provided models are MTK-F62 equipped with electrical shutter for anti vandalism and dust prevention.  MTK-F62 will replace F61 for future shipments without price adjustment.