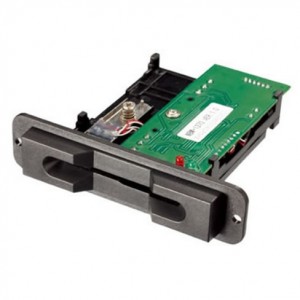 MTK-R1300 is the half-insertion magnetic card reader with compact and dependable design.  The reader implements partial decoding of magnetic tracks conforming to ISO7811. It can read approximately 60% of the magnetic stripe. (Approximately 52 characters on track 1; 25 characters on track 2; and 73 characters on track 3).
Series Information: MTK-R13 is provided in 2 series:  RS232 and TTL.  The 2 series are of the same shape but different in communication mechanisms.
RS232: This series is port powered with RS232 for commands and data transfer with host machines.  For application development, users should follow our specific communication protocols;
TTL:  This series read ISO Standard Magnetic Data  and decode them to CLS, RCL and RDT.  Developers can follow our timing chart and TTL definition table for operation and development.
Related Downloads:

MTK-R13 RS232 Reader MTK-R13 RS232(Specification+Serial Port Tool)

MTK-R13 TTL Reader: MTK-R13 TTL(Specification+TTL Definition Table)
Please specify which series you are using when ordering samples(TTL or RS232). Also, the Model lists related model names and specs. MODEL TABLE:
MODEL

Dimensions (mm)

ISO STANDARD

W

L

H

I (IATA)

II (ABA)

III (MINTS)

MTK-R1310

101.5 x 93.0 x 25.5

R

MTK-R1320

R

MTK-R1330

R

MTK-R1350

R

R

MTK-R1360

R

R

MTK-R1370

R

R

R
Technical Parameters:
Standard
ISO 7811/2
Track
ISO1 (IATA),
ISO 2 (ABA),
ISO 3 (MINTS)
Recording density
210 BPI
75 BPI
210 BPI
Record characters (half-insertion)
52 Characters
25 Characters
73 Characters
Power
+5V DC ±5%
Current
65mA(max.)
Head function
Read track width: 1.5mm
Thickness
PVC 0.76 ± 0.08mm
Operating speed
10 ~ 150cm/sec
Error rate
Under 0.5%(JSE test card)
Operating position
Indoor
Head life
500,000 times (1 time: slot card at a time)
Operating  Environment:
-20°C ~ 70°C, 20 ~ 90% RH
Storage Environment
-30°C ~ 70°C,Less than 95% RH
Applications:
Target Applications of MTK-R13 series is for Casino&Gaming Machines, keyboards, Fax&Copier machines and other self-service terminals.  It's also feasible to replace the nonsuccessive partial track insertion type readers from Panasonic(ZU-M2 Series) and other related sources.