MTK-T12 is a USB magnetic stripe reader with elegant and premium looking for use in various commercial applications. With a 6 inch length, wider rail opening and a base, the reader is more suitable for easy desktop placement and single hand swiping operation with accuracy.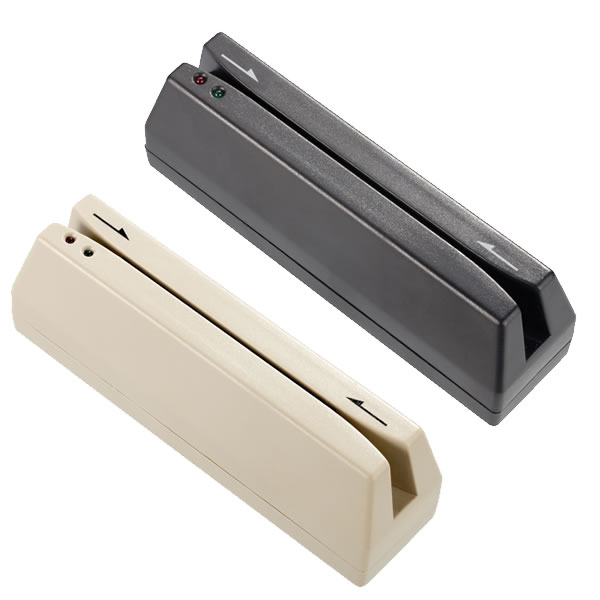 The reader supports reading 3 tracks of magnetic stripes complying to ISO 7811. Cards can be swiped in both directions, with a LED indicator for a successful or unsuccessful scan. As a plug-and-play device, it automatically decode and uploads data in plain text.
Also it's simple to config the way of data uploading with MTK-T12. With USB-COM mode support, your host device can command and control the device easily.
Features
Elegant and premium looking for commercial use;
Optimized for desktop and single hand swiping;
USB interface, intelligent and highly configurable.
2 Color Choices to match surroundings.
Specification
Supported Cards:

ISO 7811, AAMVA magnetic stripes;
Single/Dual/Triple tracks;
0.2~0.86 thickness;

Swiping Speed: bidirectional, 10~150cm per sec (5~50in)
Working Power: DC5V±5%; 50mA;
Communication: USB/RS232(optional);
Read Rate: <1 error on 2000 swipes for cards conforming to ISO 7811 1-5
Life Cycle: 500,000 swipes for magnetic head, Rail and Cover;
Dimension: 40 mm(W) x 154 mm(L) x 48.6 mm(H);
ENVIRONMENTAL:

Storage: -20°C to 60°C, Maximum – 95% non-condensing;
Working: -10°C to 50°C, Maximum – 95% non-condensing;

Weight: ~190g with cable;
Others:

Black or White Options;
LED Indicator(Red&Green), Beeper;
USB COM mode supported;
CE &FCC Certification.
MTK-T12 is a professional MSR tool for magnetic stripe reading in counter-top operations. With thorough optimization on design, the magnetic reader gains both in appearance, accuracy and efficiency.
MTK-T12 Magnetic Card Reader (Black)

MTK-T12 Magnetic Card Reader(White)