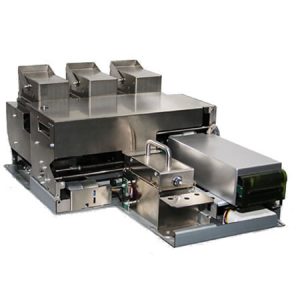 MTK-F56 is an advanced motor card dispenser with multiple card cassettes, integrated hybrid card reader and security designs.  Side by side rear card cassette layout allows easy reloading and maintenance. Portable and lockable cassette design offers easy and secure off-site card management.
With equipped card transporting mechanism, the machine is flexible to dispense cards from any designated cassette. With installed motor card reader, the dispenser is capable of reading magnetic, contact and contactless cards.
Features:
Side by side layout of 3 cassettes, controllable card dispensing from any designated cassette;
Unique side by side cassette design, portable and lockable card cassettes;
Stable and Robust Dispensing Mechanism, accurate sensor detection and status monitoring;
Security concerned design, portable and lockable card cassettes, card recycle bins.
Brief Specification:
Card Specification: 55x88mm; 0.8mm thickness, plain or embossed cards;
Capacity: 100 pcs per cassette, 300pcs total;
Reader Options: Integrated motor card reader for magnetic, contact&contactless cards, optional to use OMRON, SANKYO motor card readers for magnetic encoding.
Communication: RS232;
Power Supply: DC24V±5%4A;
Dispense/Withdraw Speed: Typ. 2~4seconds per card;
Dimensions: refer to specification
Weight: 12Kg;
Temperature: -10℃~50℃;
MTK-F56 offers advanced capability of card dispensing and security features which are applicable for finance, banking and other integrated service kiosks.