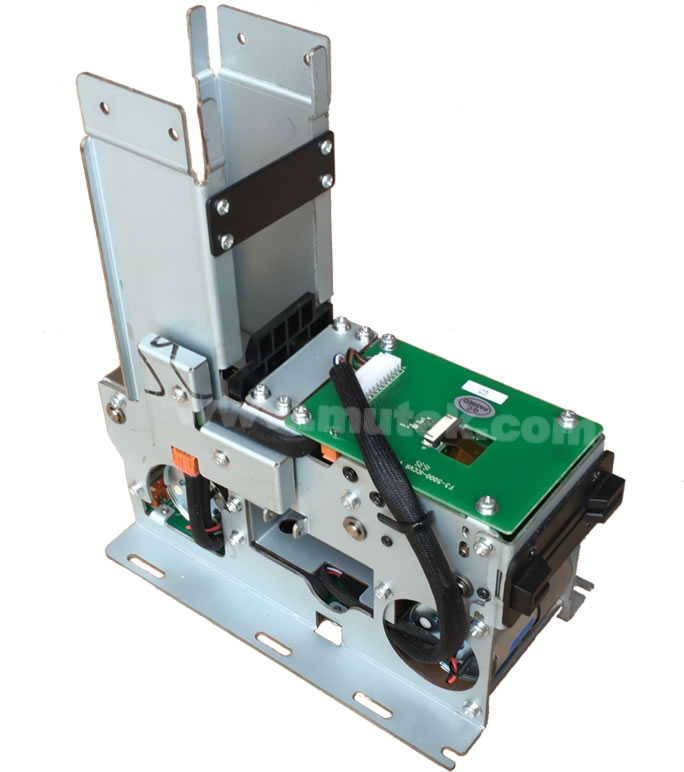 MTK-F35 is our half size card dispenser specially for dispensing 54x43mm SIM cards(1/2 of ID-1 Form Factor of ISO/IEC7810). The machine is optional to have integrated smart card reader or barcode scanner for  recording or authentication.
This product is discontinued and will be replaced by a New F35V2 SIM dispenser.
To adequate to the small size, specified card pushing kit is applied to improve dispensing efficiency and stability. Proprietary IC contact module and prices card transporting mechanism to ensure accuracy of SIM card IC reading or barcode scanning.
There are also customized card bezel, driver board and replaceable  sensor group  for a substantial enhancement of durability, maintenance, and usability.
Specification:
Card Requirements:

43x56mm or 1/2 of ID-1 Form Factor of ISO/IEC7810
IC Card:T=0、T=1 CPU Card,SAM Card, Mobile Phone SIM CArd;

Power Supply: DC5V±5%(By USB or separate input );
Communication interface: RS232+USB(PC/SC Compliant);
Life Time:

IC card contact: 300,000times min;

Environmental conditions:

Operation:0℃~50℃/0 ~ 90% Rh(Non condensing);
Storage:-25℃~80℃/0 ~ 95% Rh(Non condensing);

Weight: ~1.5Kg;
Applications:
SIM Card Vending machines for mobile operators, retailers and self-service companies;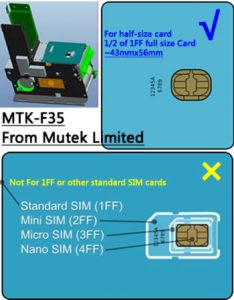 MUTEK offers full series of SIM card dispensers for ID-1 full size, ID-1/2 half-size and mini SIM cards, which convince self-service SIM card vending machines without concern of card size. And all models are compatible in installation and software for easy integration and migration.