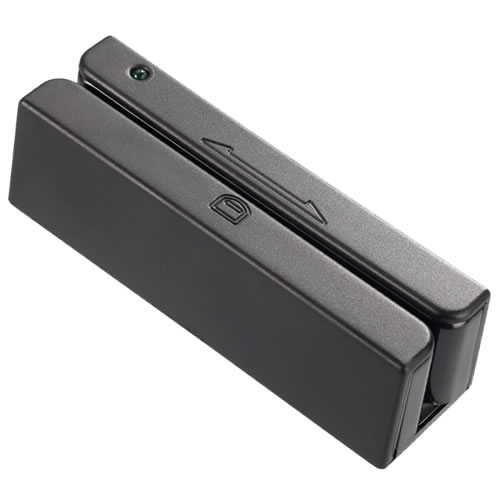 MTK-T5 is a lightweight and compact Magnetic Card Reader for decoding the ISO 7811, AAMVA format magnetic stripes. The swiping reader features a business looking and is applicable for desktop use in customer-facing environments.
MTK-T5 is a plug-and-play reader, with no external power, no driver or software required.  Also in RS232 Emulation mode, the reader provides good compatibility to older readers.
With bottom threaded brass holes, the reader can be mounted on keyboards, POS system, or flat surface of kiosks and gaming machines.
Features:
Compact and Lightweight design, 90 grams, 90mm length;
Robust and durable, to support lifespan of 1,000,000 swipes;
USB interface, plug-and-play, driver free and no extra power required;
LED indicator and beeper equipped for swiping  confirmation.
Flexible for both desktop use or kiosk integration;
Wide compatibility, USB, RS232 or PS2 connection options;
Specifications:
Supported Cards:

ISO 7811, AAMVA magnetic stripes;
Single/Dual/Triple tracks;
0.2~0.86 thickness;

Swiping Speed: bidirectional, 10~150cm per sec (5~50in)

Working Power:

DC5V±5%;

40mA;

Communication: USB/RS232/PS2(optional);
Read Rate: <1 error on 2000 swipes for cards conforming to ISO 7811 1-5
Life Cycle: 1,000,000 swipes for magnetic head, Rail and Cover;
Dimension: Length: 90mm, Width: 27mm, Height: 28mm;
ENVIRONMENTAL:

Storage: -20°C to 60°C, Maximum – 95% non-condensing;
Working: -10°C to 50°C, Maximum – 95% non-condensing;

Weight: ~90g with cable;
Others:

LED Indicator(Red&Green), Beeper;
USB COM mode supported;
CE &FCC Certification.
MTK-T5 is the perfect MSR device expertly crafted for a reliable and simple mag stripe reading solution in point of sale, access control, banking, and self-service applications.