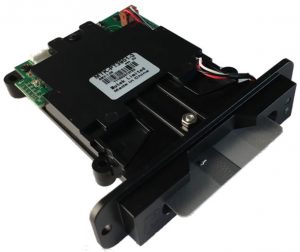 MTK-288B is a compact and higly reliable Half Insert Smart Card Reader. The model handles hybrid IC&RFID Reading/Writing with slim package and simple structure. The simpilfied and robust design allows wide applications in access control, public telephone, vending and gaming machines etc.. 
Features:
Hybrid reading/writing of Contact and Contactless cards;
Compact size and light weight allow easy installation in any terminals;
Special buffle design for preventing foreign object intrusion;
Microswitches embedded for card detection;
Options of RS232, TTL and USB interfaces for wide adaptability;
PSAM options;
Specifications:
Card Types:

ISO7816-2 IC Cards, T=0&1 CPU Card, T=0&1 PSAM card;
ISO14443 RF cards, CPU Card Type A&B,  Mifare 1 S50,S70,UL Cards;

Card Dimensions:  max 86x55mm of 0.76~1mm thickness;
Life cycles:  IC contact~500K times; Microswitch~300K times;
Intefaces: RS232/TTL/USB;
Power Supply: DC5V0.2A(Operataion 200mA, Standby: 50mA);
Ambient Conditions: 

Operation: -10~50℃ without condensation
Storage:  -25~70℃ without condensation;

Dimension: 97×97.6×26.6mm.
MTK-288B is a flexible and economical model for applications in access control, electronic locks, ID Card checkers, telephones, vending and gaming machines.