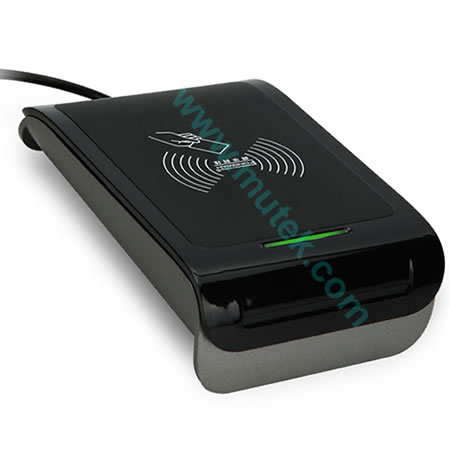 MTK-S9 is a dual interface smart card reader that offers all-in-one capability for both contact and contactless smart cards of that follow the ISO 7816 and ISO 14443 standards.
S9 desktop smart card reader provides full speed USB 2.0 interface for easy PC connection and CCID compliance for quick integration with popular Operating systems.
Features:
USB 2.0 Full Speed Interface
CCID Compliance
Contactless Smart Card Reader:

Read/write speed of up to 848 kbps
Built-in antenna for contactless tag access, with card reading distance of up to 50 mm;
Supports ISO 14443 Type A and B cards and MIFARE series
Built-in anti-collision feature (only one tag is accessed at any time)
Supports extended APDU (max. 64 kbytes)

Contact Smart Card Reader:

Supports ISO 7816 Class A, B and C (5 V, 3V and 1.8 V)
Supports microprocessor cards with T=0 or T=1 protocol
Supports memory cards
ISO 7816-compliant SAM slot(Max. 3 slots optional)

Application Programming Interface:

Supports PC/SC
Supports CT-API (through wrapper on top of PC/SC)

Built-in Peripherals:

Two user-controllable LEDs
User-controllable buzzer

USB Firmware Upgradable;
S9 reader is a cost-effective, powerful and all-in-one device that offers convenience and flexibility to various desktop smart card applications.